Justice Case Files & Lesson Plans
Justice Case Files is the central effort of a public awareness campaign launched by the National Center for State Courts. It includes a series of graphic novels that engage the reader while giving insight into how judges make decisions, how the courts protect the public, and why courts are so important to a democratic society. The storylines and content were developed by judges, court administrators, and other legal professionals.
The Supreme Court of Ohio worked with Ohio educators to develop comprehensive lesson plans that detail which Ohio learning standards the novels meet for different grade levels.
---
The Case of Jury Duty (PDF) tells the story of Matthew Foley, an 18-year-old who has been summoned for jury duty on a case that involves underage drinking and driving. Readers learn how meaningful jury service is, how the jury system is a source of accountability for courts, and how our society benefits from the right to a jury of your peers.
Lesson Plan:
(PDF | View using Issuu)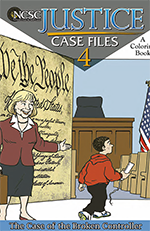 The Case of the Broken Controller (PDF) is a narrative coloring book that tells the sotry of Tyler, who wants justice because he says his friend broke his videogame controller.
Lesson Plan (PDF | View using Issuu)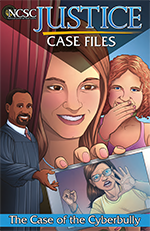 The Case of the Cyberbully (PDF) tells the story of Amber, who is bullied at school and online by classmate Madison. The bullying escalates to the point the case winds up in juvenile court.
Lesson Plan (PDF | View using Issuu)
The Case of No Pets Allowed (PDF) tells the story of the Ruiz family, who has received an eviction notice from their landlord because they own a dog. The parents speaks minimal English and rely on their teenage son, who is bilingual, for English translation. The book follows the family through the court process of fighting the eviction but not understanding the process because of language barriers.
Lesson Plan (PDF | View using Issuu)
---
PDF Files may be viewed, printed, and searched using the Free
Acrobat® Reader
. Acrobat Reader is a trademark of Adobe Inc.