John Allen Shauck
John Allen Shauck devoted his life to the law. As a scholar of the U.S. and Ohio constitutions, he believed the Ohio constitution should not be interpreted to grant rights beyond what was written. His decisions during his 19 years of service on the Supreme Court of Ohio reflect his commitment to not expanding those rights and his opinions often conflicted with the Ohio General Assembly.
Shauck was born to Eli and Barbara Halderman Shauck on March 26, 1841 in Morrow County, Ohio, where his parents were farmers. After attending the public schools of Johnsville in Morrow County, he entered Otterbein College in 1859. He graduated in 1864.
On May 13, 1864, Shauck joined Company I, 136th Ohio Volunteer Infantry, of the Union Army. Serving as a private, he was discharged on Aug. 20, 1864. He then entered the University of Michigan Law School and graduated in April 1867. Upon admission to the bar, he moved to Kansas City to practice law.
The lure of Ohio called him back and, in 1868, Shauck moved to Dayton, where he and Samuel Boltin formed a partnership under the name of Bolton and Shauck. They specialized in the handling and settlement of large estates, testamentary trusts and fiduciary affairs. Together, they practiced law until Shauck's elevation to the Circuit Court of the Second Circuit of Ohio in 1885.
Shauck was elected to a six-year term in November 1884 as a Republican to the newly created appellate court, the Circuit Court of the Second Circuit of Ohio. An amendment to the Ohio Constitution divided the state into eight circuits. Each circuit had three elected judges. The Second Circuit was comprised of Preble, Darke, Shelby, Montgomery, Champaign, Clarke, Greene, Fayette, Madison and Franklin counties. He was re-elected in 1890 for a second six-year term.
In 1894, Shauck was elected to the Supreme Court for a six-year term. He was re-elected in 1900. By an Act of the Ohio General Assembly of April 2, 1906, his term of office was extended for two years. In 1908, he was elected to a full six-year term. He did not seek re-election in 1914. He retired on Jan. 1, 1915. Shauck served as Chief Justice during the terms of 1906, 1907 and part of 1913.
Shauck was regarded by legal scholars to be a believer in the supremacy of constitutional law. His legal decisions were based on a strict interpretation of the Ohio Constitution. The case State ex. rel. Knisely v. Jones (1902) is an example of his adherence to this doctrine. The Constitution of 1851 in Article 13, section 6 authorized the General Assembly to provide for the organization of cities and incorporated villages by general laws that would apply to the entire state. To fulfill this duty, the General Assembly created two classes of cities: those of the first class were cities with population of more than 20,000 people, and those of the second class were cities with population from 5,000 to 20,000. Shauck believed the passage of these laws was a deceptive way to avoid the prohibition in the Ohio Constitution about special laws.
He wrote, "In view of the trivial differences in population, and of the nature of powers conferred, it appears from such examination that the present classification cannot be regarded as based upon differences in population, or upon any other real or supposed differences in local requirements. Its real basis is found in the differing views or interests of those who promote legislation for the various municipalities o the state." The Supreme Court ruled the law unconstitutional.
Shauck married Ada May Phillips on June 1, 1876 in Centralia, Ill. and they had two children.
After his retirement, Shauck became a professor at Ohio State University. On Jan. 3, 1918, Shauck died at Mt. Carmel Hospital in Columbus. His funeral was conducted by the Rev. E.F. Chauncey at Trinity Episcopal Church in Columbus on Jan. 4. 1918. He was buried in Woodland Cemetery in Dayton on Jan. 5, 1918.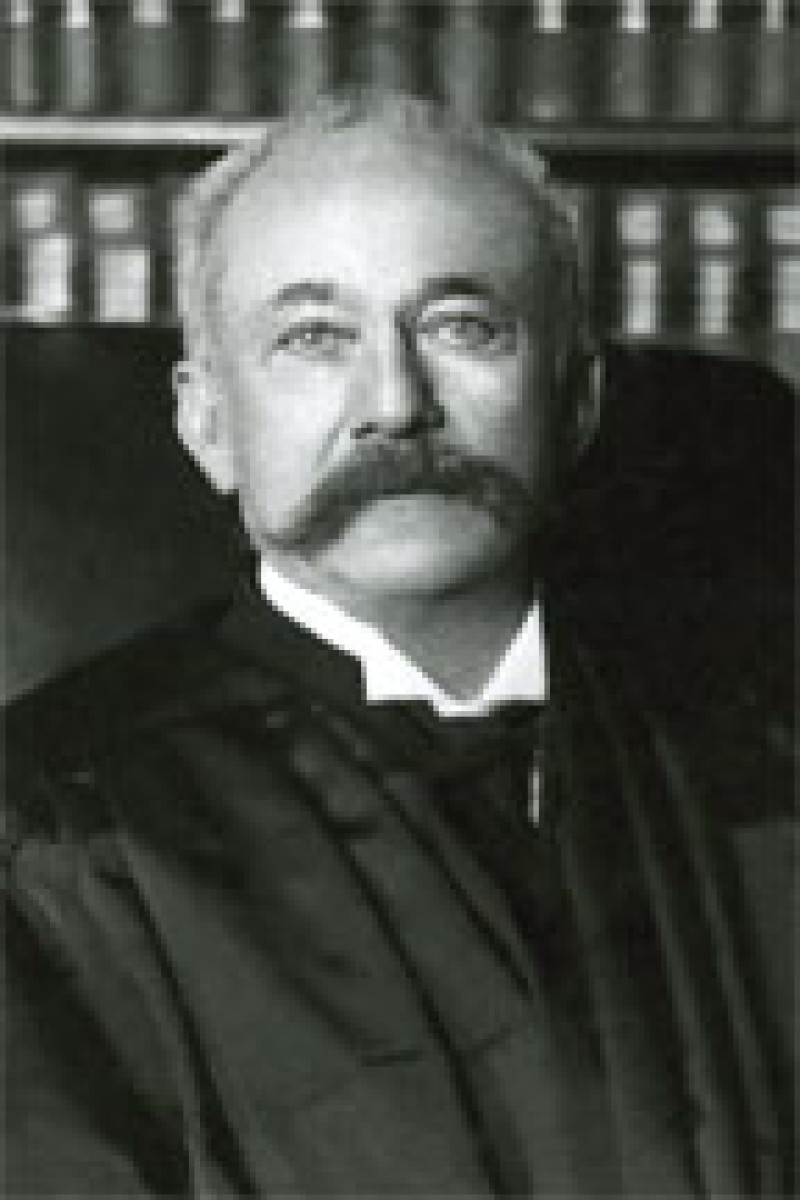 b. March 26, 1841
d. Jan. 3, 1918
69th Justice of the Supreme Court of Ohio
---
PDF Files may be viewed, printed, and searched using the Free
Acrobat® Reader
. Acrobat Reader is a trademark of Adobe Inc.