John Weld Peck
John Weld Peck was heir to a long judicial tradition; his uncle was a U.S. district court judge and his grandfather, Hiram D. Peck, was a Justice on the Supreme Court of Ohio.
Peck was born in Cincinnati on June 23, 1913 to Arthur and Marguerite Comstock Peck. He attended Miami University, earning a bachelor's degree in 1935. He went on to the University of Cincinnati College of Law, where, in 1938, he graduated with a juris doctor. Having passed the bar he went into private law practice, becoming a partner with Peck, Shaffer & Williams of Cincinnati.
In 1942, he enlisted in the U.S. Army, served with the Judge Advocate General's Corps and upon his discharge in 1946, had attained the rank of captain. After the war, he returned to private practice. Peck served as a lecturer at the University of Cincinnati College of Law from 1948 to 1969, and as a trustee of Miami University in 1959. Over the course of his career, Peck was given honorary doctorate of laws degrees from the University of Cincinnati in 1965, Miami University in 1966 and Northern Kentucky University Salmon P. Chase College of Law in 1971. Active in Cincinnati affairs, Peck served on the Princeton City School District Board of Education from 1963 to 1969.
In 1949, Peck began his public service career, serving as executive secretary to Gov. Frank J. Lausche. Later that year, Gov. Lausche appointed Peck to fill a vacancy on the Hamilton County Common Pleas Court in 1949. Peck lost the election in 1950 and on Jan. 31, 1951, Gov. Lausche appointed Peck tax commissioner of Ohio, a position he held until 1954. He was appointed in mid-1954 to complete an unexpired term as Hamilton County Common Pleas Court judge, ran in the fall election, and won a full term on that court.
Gov. Michael DiSalle appointed Peck to the Supreme Court on April 16, 1959, following in his grandfather's footsteps. Peck replaced James Garfield Stewart upon his death, but was defeated in the fall election by C. William O'Neill. His most prominent case while on the bench involved a dispute between the mayor of Columbus and its city council. The issue was over the mayor's right to appoint a person to city council to fill a vacancy not filled by that council.
The Supreme Court already ruled on the issue in January 1959, (State, ex rel. Devine, Pros. Atty., v. Hoermle, 1959) voting 4-3 that Mayor Sensenbrenner lacked the authority to appoint William Hoermle to council. Sensenbrenner then appointed the Rev. Russell M. Jones to council. Peck cast the deciding vote in the Jones case as had Justice Stewart before him (State, ex rel. Allison, Pros. Atty., v. Jones, 1960). Peck wrote the opinion for the case in which he stated that although he had not heard the case the first time around, the Supreme Court had already ruled on the issue and the situation was unchanged: Columbus City Charter does not allow the mayor to fill vacancies on city council. He observed that Columbus City Council did have a need to create a way to fill a vacancy in cases, such as this, but a matter should be addressed in a charter amendment, not a Supreme Court ruling.
No sooner had he settled back into private practice than he was called to public service again: President John F. Kennedy appointed Peck to the U.S. District Court, southern district of Ohio in 1961. He served there for six years. His final appointment was in 1966, when President Lyndon Johnson called him to serve on the U.S. Court of Appeals for the Sixth Circuit in Cincinnati. In 1978, he took senior status, which in semi-retirement lightened his load slightly.
Peck was highly regarded by his peers, although he personally felt judges were capable of human mistakes, as a 1977 essay he wrote comments, "We may fiddle-faddle and we may even muddle, but in the end it seems likely that the individual American who has sinned against his neighbor receives about as even-handed justice as man has ever dispensed to his wayward brethren."
In 1984, the federal office building in downtown Cincinnati was named after Peck, honoring a lifetime devoted to the law. At the time of the dedication, Peck was one of only two living Americans to have a federal building named after him.
Peck married Barbara Moser on March 25, 1942 and they had three sons. Peck died at his desk in the federal building bearing his name on Sept. 7, 1993. He is buried at Oak Hill Cemetery. His second wife, Janet Peck, and his three sons survive him.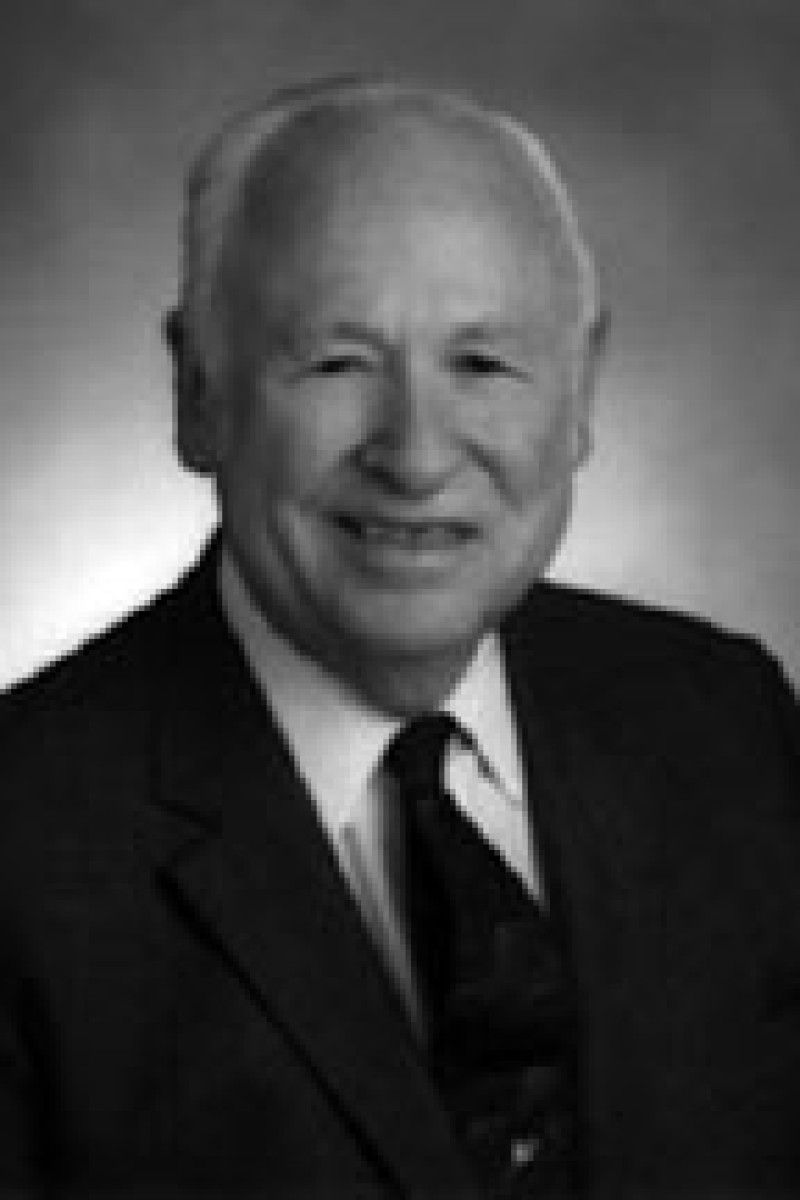 b. June 23, 1913
d. Sept. 7, 1993
117th Justice of the Supreme Court of Ohio
TERM
Apr 16, 1959
to Nov 1, 1960
---
PDF Files may be viewed, printed, and searched using the Free
Acrobat® Reader
. Acrobat Reader is a trademark of Adobe Inc.