Thomas Welles Bartley
Thomas Welles Bartley served as a Supreme Court of Ohio Justice, speaker of the Ohio Senate and acting governor until he was succeeded by his father, which created a unique situation in Ohio and unusual in the history of American state government.
Bartley was born in Jefferson County, Ohio on Feb. 11, 1812 to Mordecai and Elizabeth Welles Bartley. Bartley spent his boyhood working on the family farm in Richland County, Ohio, attending Madison Township schools and following his father's political career.
Bartley attended Jefferson College in Canonsburg, Pa., where he graduated in 1829. After graduation and over the next four years, Bartley earned a master's degree from Jefferson College and studied law in Mansfield with Jacob Parker and in Washington, D.C. with Elijah Hayward.
Bartley was admitted to the Ohio bar in 1833 and opened a private practice in Mansfield. The next year saw the beginning of Bartley's political career when he was elected to the first of his two terms as Richland County prosecuting attorney. In 1839, Bartley was elected to the Ohio House of Representatives, serving until the end of March 1841. In October 1841, Richland County voters elected Bartley to the first of two terms in the Ohio Senate. Democrats in the Ohio Senate in December 1843 selected Bartley to be the chamber's Speaker. Gov. Wilson Shannon resigned on April 15, 1844, to accept President John Tyler's appointment as Minister to Mexico, and Bartley became the acting governor until one was elected at the next state general election.
The General Assembly adjourned a month before Gov. Shannon's resignation, leaving little for Bartley to do other than make appointments to vacancies on boards or commissions, fill judicial and militia officer vacancies, review and decide on pardons and sign official documents.
Following his two terms in the Ohio Senate and his service as acting governor, Bartley returned to Mansfield and his law practice where one of his chief adversaries in Richland and neighboring county courts was future Supreme Court Justice Jacob Brinkerhoff. County historian A.A. Graham noted that the pair was evenly matched: Brinkerhoff rarely spoke more than an hour, and Bartley never spoke less than three. Bartley was a candidate for his party's nomination for governor, but, by a single vote, narrowly lost at the state Democratic Party convention to David Tod; sparing Bartley the prospect of campaigning against his father in the general election.
Bartley served as district attorney for the northern district of Ohio from 1845 to 1849. Once again, Bartley returned to his law practice in Mansfield. In 1851, Bartley was among a group of eight Mansfield citizens who organized the Richland Mutual Insurance Company, one of the first insurance companies chartered in Mansfield and it limited its operations to Ohio. In 1852, Bartley, Jesse R. Strong and John and Joseph Larwill, surveyed, platted and laid out a town that they named Crestline. The new town quickly became a railroad hub, serving as a junction for the Pittsburgh, Fort Wayne and Chicago Railroad and the Cleveland, Columbus and Indianapolis Railroad.
Under the 1851 Constitution, Ohio voters directly elected justices to the Supreme Court. Bartley was one of the candidates elected that October. Bartley and other newly elected judges drew lots for the term of service on the court, and Bartley drew the lot for a two-year term. He was re-elected in October 1853 to a full five-year term that began in February 1854. Judge Bartley's opinions can be found in volumes 1 through 8 of Ohio State Reports. From 1856 to 1858, Bartley served as the Court's Chief Justice.
During its January 1853 term, the Supreme Court heard a number of cases concerning the constitutionality of legislation adopted in 1851, including a case permitting the state to tax banks chartered under the "Act to Incorporate the State Bank of Ohio, and other banking companies" that was passed in April 1845. Bartley wrote the majority opinion for a divided court in the case of The Bank of Toledo v. The City of Toledo and John R. Bond (1853) and concurred with the majority in the cases of Jacob Knoup, Treasurer of Miami County v. The Piqua Branch of The State Bank of Ohio (1853), The Mechanics' and Traders' Branch of The State Bank of Ohio v. Debolt (1853) and Henry Debolt, Treasurer of Hamilton County v. The Ohio Life Insurance Company (1853) that upheld legislation giving the state and its counties the ability to tax banks. In all four cases, Bartley held the position that the franchise of a private corporation always was subservient to the public welfare and a charter or contract between a private corporation and the state that created the franchise was in reality a law, not a contract, and did not fall under the purview of the commerce clause of the U.S. Constitution. His opinion also stated that the power to tax could not be surrendered by the legislature and that, while the government is bound in good faith to protect contracts and private property, its paramount obligation is to protect the public welfare. Bartley, in speaking for the court, also held that the property owned by individuals must be held liable to bear an equal and proportionate burden of public expenses through taxation and that the legislature is the government body that determines the scope of the tax burden. Bartley's opinion and later comments also included his judgment that the U.S. Supreme Court lacked appellate jurisdiction over state supreme courts. The U.S. Supreme Court later that year reversed the Supreme Court of Ohio's decisions when it ruled in the case of Piqua Branch of The State Bank of Ohio v. Jacob Knoup, Treasurer of Miami County (1853).
In 1863, Bartley left Mansfield and moved to Cincinnati to practice law. Four years later, following the Civil War, Bartley moved to Washington, D.C. to continue practicing of law. In 1879, he founded the publication, the American Register, a journal giving Bartley an opportunity to expound on what he viewed as Democratic Party principles. Bartley abandoned the project a few years later for financial reasons.
Bartley married three times: first to Julia Maria Larwill on Oct. 9, 1837, in Wooster; then to Susan D. Sherman, sister of Sen. John Sherman and Gen. William Tecumseh Sherman, on Nov. 7, 1848, in Mansfield; and finally to Ellen McCoy, widow of one of Gen. Sherman's staff officers. Bartley died in the District of Columbia on June 20, 1885, and was buried in a local cemetery.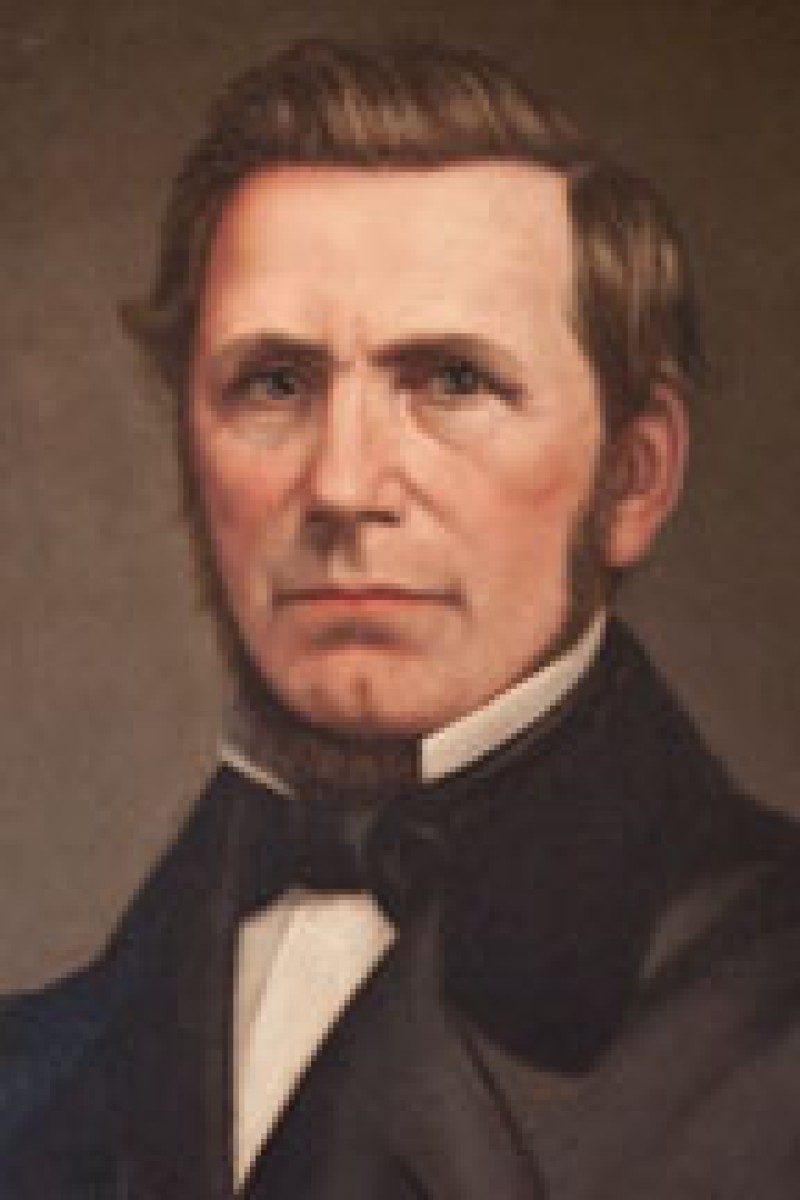 b. Feb. 11, 1812
d. June 20, 1885
31st Justice of the Supreme Court of Ohio
---
PDF Files may be viewed, printed, and searched using the Free
Acrobat® Reader
. Acrobat Reader is a trademark of Adobe Inc.