Robert Edward Holmes
Justice Robert Edward Holmes ended his judicial career as a result of the legislation he supported in his concurring opinion for State, ex rel. Keefe v. Eyrich et al. (1986), which upheld the provision in Ohio's Constitution that a person could not be appointed or elected a judge if they had reached the mandatory retirement age of 70.
Holmes was born in 1922 in Columbus to Harry B. and Norma Birney Holmes. In the midst of World War II, he graduated in 1943 from Ohio University with a bachelor's degree. Upon entering the U.S. Naval Reserves in 1944, he served as a deck officer until his discharge in 1946. After his return to Columbus, he entered the Ohio State University College of Law, where he received his law degree in 1949. Upon graduation, he entered private legal practice with his father, former Franklin County Court of Common Pleas Court Judge Harry B. Holmes, and his brother, William Holmes.
In 1960, Holmes was elected to the Ohio House of Representatives and subsequently re-elected in 1962, 1964 and 1966. Holmes was elected the majority leader and speaker pro tem of the Ohio House of Representatives in 1967.
In 1968, Holmes left the legislature to enter the judiciary. He was elected to serve a two-year term on the 10th District Court of Appeals of Ohio. Subsequently, he was re-elected to six-year terms in 1970 and 1976. While working as a judge in this court, he gained valuable experience serving as a visiting judge for other appellate districts and the Supreme Court of Ohio. His fellow appellate court judges honored him by asking him to serve as chairman of the Appellate Court System Review Committee. This committee studied and successfully recommended to the Ohio General Assembly changes in the statutes and Rules of Practice in the appellate process in Ohio.
On Dec. 11, 1978, Gov. James A. Rhodes appointed Holmes to fill the unexpired term of Frank D. Celebrezze, who was elected Chief Justice of the Supreme Court. He subsequently was elected to a six-year term in 1980, and re-elected in 1986. He retired in 1992, upon reaching the mandatory age limit of 70.
Holmes served in the courts headed by Chief Justice Frank D. Celebrezze from 1979 to 1987 and by Chief Justice Thomas J. Moyer, 1987 to 1992. Under Celebrezze, the Court expanded the avenues employees could use to seek workers' compensation and abolished parental, spousal and sovereign immunity. Those decisions conflicted with Justice Holmes' view of the role of the Supreme Court. He believed in judicial restraint, in not creating new rights or policies not written into statutes.
In an interview with the Columbus Dispatch on Dec. 21, 1992, Justice Holmes described his judicial philosophy as "to judicially interpret the words and ideas of the drafters of…the law, not to initiate ideas or policies in the legislative sense." He stated that he had been "somewhat the conservative trying to hold the line" against the expansion of legal theories, large damage awards by juries and rising costs of liability insurance and medical and hospital care. The Court headed by Chief Justice Thomas J. Moyer returned to the pattern of traditional deference to legislative enactments.
It is ironic that Justice Holmes was forced to retire due to the Modern Courts Amendment. The amendment was passed by the voters of Ohio in 1968, and forbids judges the right to seek election or be re-elected "if on or before the day when he shall assume the office and enter upon its discharge of its duties, he have attained the age of seventy years."
The Supreme Court of Ohio ruled on the constitutionality of this amendment in a unanimous decision in Keefe. A judge of the 1st District Court of Appeals of Ohio sought to have his name placed on the primary ballot although he had reached 70 years. The Supreme Court ruled that there is no fundamental right to be a candidate for public office and that Ohio's requirement for mandatory retirement at age 70 was not unreasonable. In his concurrent opinion, Justice Holmes expressed that the Supreme Court should be reluctant to overturn a section of the Ohio Constitution that had been overwhelmingly supported by Ohio voters.
Holmes retired on Dec. 31, 1992. He married Marjory Jean Holmes on Aug. 23, 1952 and they had two sons. Jean died Feb. 13, 1977. Justice Holmes later married Patricia S. Mishey, who died Oct. 16, 1999. Justice Holmes died July 28, 2004 at his home in Powell.
In remarks made after Holmes' death, former state Rep. Keith McNamara, commented on Justice Holmes' kind attitude:
"Bob cared about people and their well being. It didn't matter to Bob if you were of a different political party, a different race, or came from a different land. He cared about all people. He spent many hours working for the Kiwanis Club and Charity Newsies to help people he would never meet. If you were a friend or family member, he was extremely loyal."
On Nov. 8, 2005, the Supreme Court dedicated a portrait of Holmes that is displayed in the Law Library on the 11th floor of the Ohio Judicial Center. Chief Justice Thomas J. Moyer remarked, "Justice Holmes lived by very strict judicial principles and those were seen in his judicial philosophy. His term on the Court enabled him to have a profound impact on the jurisprudence of Ohio."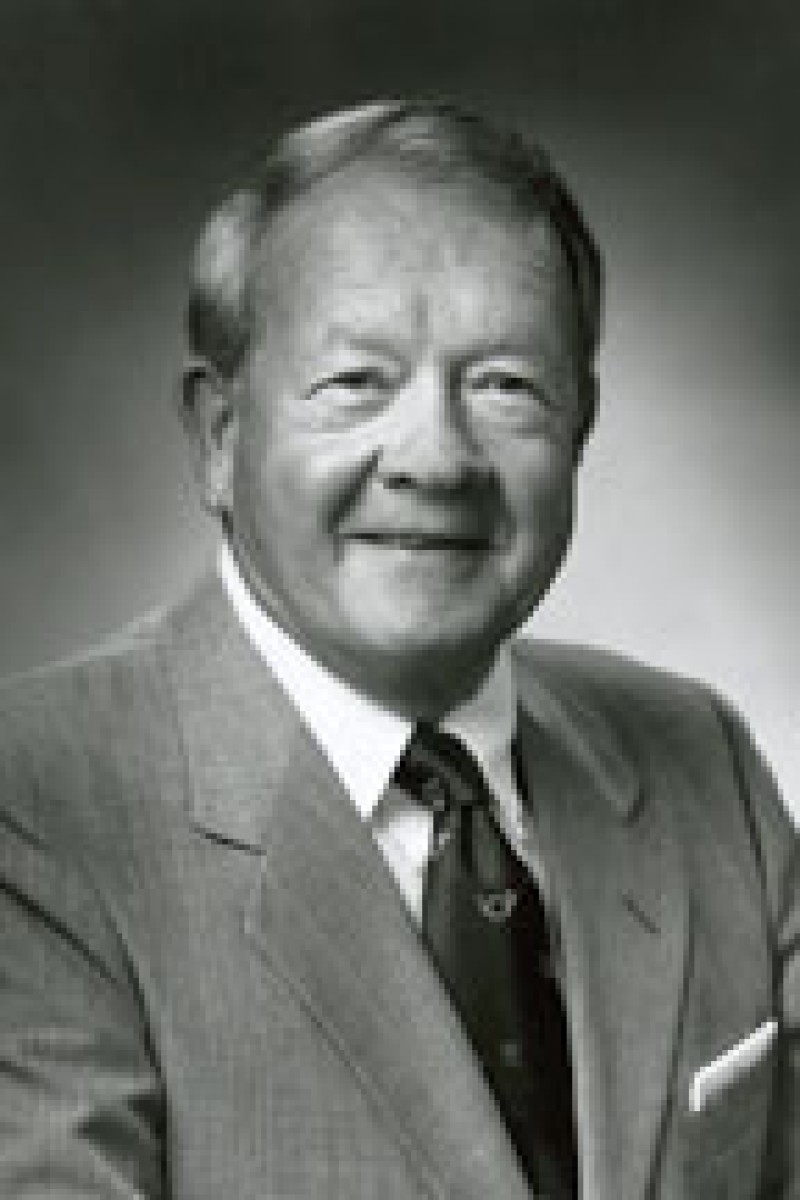 b. 1922
d. July 28, 2004
134th Justice of the Supreme Court of Ohio
TERM
Dec 11, 1978
to Dec 31, 1992
---
PDF Files may be viewed, printed, and searched using the Free
Acrobat® Reader
. Acrobat Reader is a trademark of Adobe Inc.