ReubenWood
Fond of practical jokes, Reuben Wood served two terms as a Justice on the Supreme Court of Ohio. As governor, he helped push legislation through that reorganized Ohio's court system.
He was born in Middletown, Rutland County, Vt. in 1792 or 1793 to Nathaniel Wood Jr. and Lucretia Lockwood Wood. He was educated in Middletown's schools until his father's death, and then was sent to Canada to live with an uncle, where he pursued a classical education and began to study law.
At the outbreak of the War of 1812, Canadian authorities conscripted Wood and a fellow American classmate into the Canadian Militia. Wood and his classmate deserted and escaped from Canada by undertaking a hazardous three-day crossing of Lake Ontario in a birch bark canoe before the pair landed at Sackett's Harbor, N.Y. Wood later enlisted in Nathaniel Judson's Vermont Militia regiment and served as a private during the war. After his discharge, Wood returned to Middletown to care for his widowed mother and work on the family farm. He also taught school and furthered his legal education by studying in the offices of local attorney James Clark.
Wood arrived in Cleveland in 1818 when it was a village with a population of barely 600 and few prominent attorneys, other than Alfred Kelley and Leonard Case. He was admitted to the Ohio bar and quickly developed a successful private practice and was encouraged to seek public office.
First, he was elected to the position of president of the Village of Cleveland in 1821. Then he ran successfully on the Democratic ticket in October 1825 for a seat in the Ohio Senate. He was re-elected twice. In 1830, the Ohio General Assembly, meeting in joint session, elected Wood to a seat on the Court of Common Pleas for the Third Judicial Circuit that included Cuyahoga County. On Jan. 9, 1833, Gov. Robert Lucas issued Wood's commission to the Supreme Court for a term that was to start on Feb. 6. On Feb. 6, 1840, Gov. Wilson Shannon issued Wood's commission for his second seven-year term. In 1847, the Whig Party captured control of the General Assembly and defeated Wood's attempt to earn a third term. Wood's opinions on behalf of the Court are in volumes 6 through 15 of Ohio Reports. Wood served as Chief Justice when it met in Columbus for the years 1846 and 1847. After leaving the Court, Wood returned to Cleveland to practice law.
The election year of 1850 brought attempts by both the Whig and Democratic Parties to appeal to anti-slavery voters without appearing to be abolitionists. Democrats at their state convention nominated Wood for governor in hope his anti-slavery views would attract Democrats who joined the Free Soil Party. Wood took office in December 1850 and used his message to the new General Assembly to attack the Compromise of 1850 and the Fugitive Slave Law. He stopped short of encouraging disobedience of the Fugitive Slave Law, however. At the start of Wood's gubernatorial tenure, Ohio's second constitutional convention was in progress and completed its work in March 1851.
Ohio voters adopted the new state constitution by popular election on June 17. The new document called for the election of statewide officers in odd years, which meant that Wood campaigned for re-election that October. He defeated Whig Party candidate state Sen. Samuel F. Vinton and Free Soil Party candidate and former state superintendent of common schools Samuel F. Lewis. Wood took office for his second term in January 1852.
In 1852, the Ohio General Assembly, with Wood's encouragement, passed legislation that reorganized Ohio's court system. Wood was considered a compromise candidate for president at the deadlocked 1852 national Democratic Party convention meeting in Baltimore, but the convention turned to Franklin Pierce of New Hampshire instead.
On June 13, 1853, Wood submitted his resignation as governor to accept President Franklin Pierce's nomination as American consul at Valparaiso, Chile. His son-in-law, George B. Merwin, served as his assistant. Wood also served briefly as acting-ambassador to Chile before his resignation and return to the United States in 1855.
He briefly practiced law in Cleveland after his return before retiring to his farm "Evergreen Place," located to the west of Cleveland, near Rockport. A Jacksonian Democrat, Wood supported James Buchanan for president in 1856. During the Democratic Party split in 1860, Wood presided over a state convention of dissident Democrats that nominated John Breckinridge of Kentucky for president in opposition to the regular Democratic Party candidate, Stephen A. Douglas of Illinois.
Wood became a Union man at the outbreak of the Civil War, however, and was chosen to head a Union mass meeting to be held in Cleveland to rally support for the re-election of President Abraham Lincoln. Wood died on Oct. 2, 1864 at his home days before the rally was held. Funeral services were conducted at the family home on Oct. 4, with burial at "Evergreen Place" among a grove of trees following the services. Wood's body later was disinterred and reburied in Woodland Cemetery in Cleveland, where a monument also was erected.
Given the sobriquet "Old Chief of the Cuyahogas" because of his tall and lean frame, Wood was fond of practical jokes, although he spoke bluntly and could be tactless at times. Wood married Mary Rice of Clarendon, Vt. in 1816 or 1817 and the couple raised two daughters.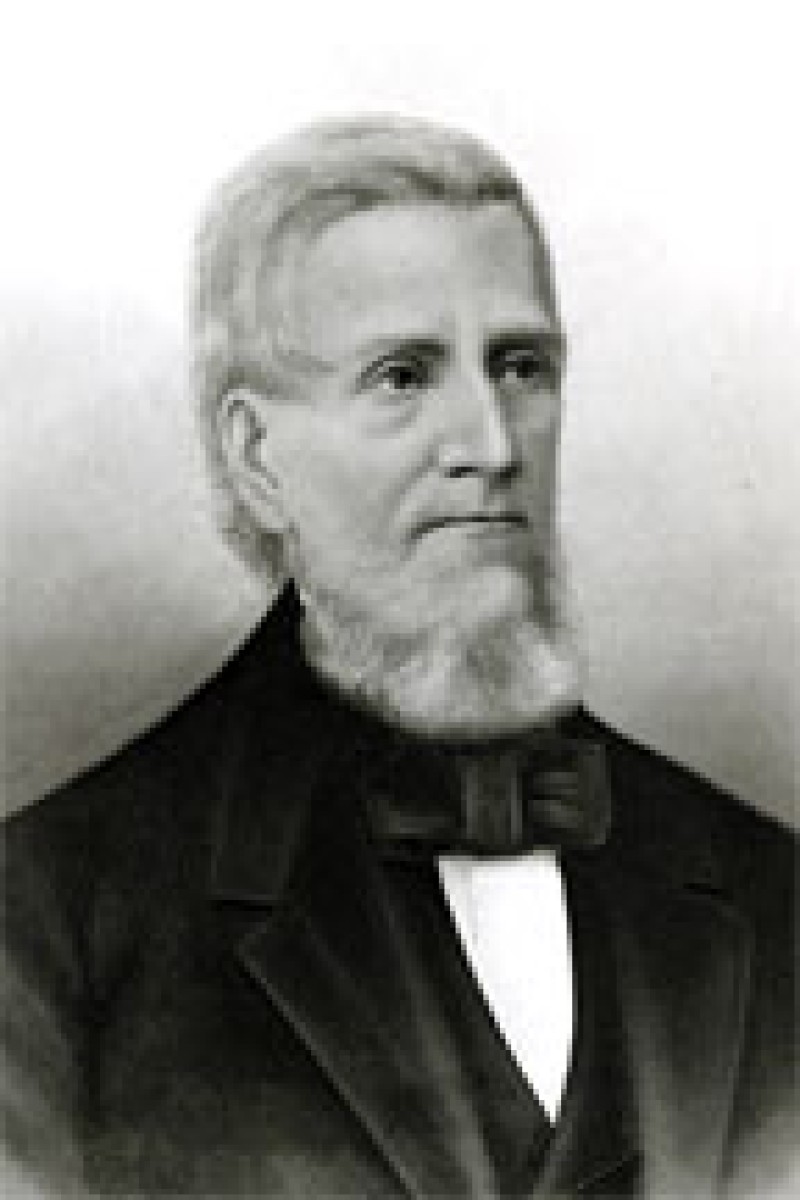 b. 1792 or 1793
d. February 1847
23rd Justice of the Supreme Court of Ohio
---
PDF Files may be viewed, printed, and searched using the Free
Acrobat® Reader
. Acrobat Reader is a trademark of Adobe Inc.