Carl Victor Weygandt
Carl Victor Weygandt served for 38 years on Ohio courts including 30 years as Chief Justice of the Supreme Court of Ohio. He holds the longest tenure as chief justice on the Court, a position he likely will not lose due to current constitutional age limitations.
News stories written shortly after his death in 1964 included observations that he was respected as a jurist for his willingness to give each side in a case an impartial hearing. He was admired because he "looked every inch the part" of a motion picture jurist with his tall erect frame, silver hair, excellent speaking voice and pince-nez eyeglasses. Aside from his legal rulings, Weygandt earned national recognition as an outstanding football official and expert on the rules of the game.
Weygandt was born near Wooster, Ohio on June 14, 1888 to Cora Mock and William E. Weygandt. He attended Wooster City Schools, graduating from high school in 1906. From 1906 to 1908, Weygandt taught in the rural schools in Wayne County before enrolling in the College of Wooster in the fall of 1908.
When he graduated in 1912, Weygandt was recognized as an exceptional student, who was a member of the scholastic honorary society of Phi Beta Kappa and fullback on the varsity football team. After graduation, from 1912-1915, he taught school and during the summers, he also served as an instructor at the College of Wooster. In the fall of 1915, Weygandt moved to Cleveland and enrolled in the Western Reserve University Law School, where he graduated with a doctor of laws degree in 1918, when he also was admitted to the Ohio bar.
In 1919, he joined the Cleveland law firm of Thompson, Hine & Flory. Saturdays during the fall from 1915-1932, Weygandt spent his afternoons as a football referee, officiating games in Ohio and from Massachusetts to Nebraska.
Weygandt began his political career with his November 1920 campaign for a seat in the Ohio House of Representatives. During his one term, he introduced two pieces of legislation. Weygandt chose not to run for re-election to the Ohio House in 1922, opting instead to return to his legal practice. In 1923, he became the chief legal counsel for the Cleveland Automobile Club.
On April 5, 1924, Ohio Gov. A. Victor Donahey appointed Weygandt to a seat on the Cuyahoga County Court of Common Pleas. Weygandt campaigned successfully for election to complete the remaining four years of the term in November 1924 and successfully campaigned for re-election to a full six-year term on the bench in November 1928. He served only two years, however, choosing instead to conduct a successful campaign for election in November 1930 to complete an unexpired term on the Ohio 8th District Court of Appeals.
Two years later, Judge Weygandt ran for Chief Justice. Weygandt was encouraged to run because news stories in the Cleveland Plain Dealer, Dayton Daily News and Toledo Blade reported that Chief Justice Carrington T. Marshall gained a reputation as a poor Court administrator and brought a partisan style to the high court.
Democrats also encouraged Weygandt to campaign because they saw the 1932 presidential election between Franklin D. Roosevelt and unpopular incumbent President Herbert Hoover as an opportunity to aid their party's chances of winning the office. Weygandt prevailed in the fall election and successfully campaigned for re-election four times, in 1938, 1944, 1950 and 1956.
He used his office to campaign for increases in salaries for all Ohio judges and to establish a retirement system on their behalf. He believed these two measures would help encourage able lawyers to become judges on all Ohio courts and to keep them from leaving the bench. In 1954, in frustration over his lack of success in raising judicial salaries or establishing a judicial pension plan during the 100th General Assembly, Weygandt submitted his letter of resignation to Gov. Frank Lausche. Lausche held on to the letter, but did not accept Weygandt's resignation. One month later, Weygandt reconsidered and agreed to stay on the high court.
Chief Justice Weygandt's many opinions appear in volumes 127-174 of Ohio State Reports (new series). He published 10 to 25 decisions per volume, depending on the number of cases to be heard by the high Court at each of its annual sessions. Common themes running through the opinions acknowledge the independent role of the judiciary to review administrative and legislative activities and defer authority to the legislature to enact laws that lay out sections of the Ohio General Code or its successor, the Ohio Revised Code.
In the case State of Ohio v. Marinski, (1942) Weygandt spoke for a divided Supreme Court that permitted the introduction into the trial record of Ohio court of common pleas testimony concerning a juvenile's Boys Industrial School commitment and school record. Harry Marinski was arrested and charged with the crime of auto theft. Because Marinski testified in open court where and how he had spent the years before his arrest and omitted his confinement at the Boys Industrial School in hope of winning sympathy from the jury, Weygandt argued that Marinski should not be able to use sections of the Ohio General Code or the Supreme Court's decision in Malone v. State (1936) that prohibits disclosure of juvenile court records to influence a jury's or judge's decisions. He pointed out in his opinion that it was the defendant who introduced his life events. Weygandt argued that to deny the prosecuting attorney under cross examination to inquire about the full extent of the defendant's life would seriously undercut the truth-determining process of a criminal trial and lead to a miscarriage of justice. The Chief Justice's decision marks one of the few instances when a court record or commitment of a juvenile may be disclosed in open court.
Weygandt filed nominating petitions to run in Ohio's May 1962 primary election to seek a sixth term. Although he was 74, he remained confident in his ability to perform the duties of Chief Justice and convince Ohio voters he was up to the task. Weygandt ran unopposed in the May primary and prepared for the fall campaign. His sixth opponent was to be fellow Supreme Court Justice Kingsley A. Taft. The 1962 election marked the first time that a Justice on the Supreme Court challenged an incumbent Chief Justice, who was running for re-election. News stories at the time commented that Supreme Court election between two Justices who were both members of the high court was the first of its kind in the United States. Taft defeated Chief Justice Carl Weygandt by a margin of less than 1,600 votes, out of more than 2.6 million votes cast.
Weygandt married Jessie May Silver, of Wooster, Ohio on June 14, 1915 and the couple raised three children. Death from a stroke came to the 76 year-old jurist on Sept. 4, 1964. Funeral services were at Lakewood Methodist Episcopal Church on Sept. 8 and burial took place at the Weygandt family plot in Wooster later that afternoon.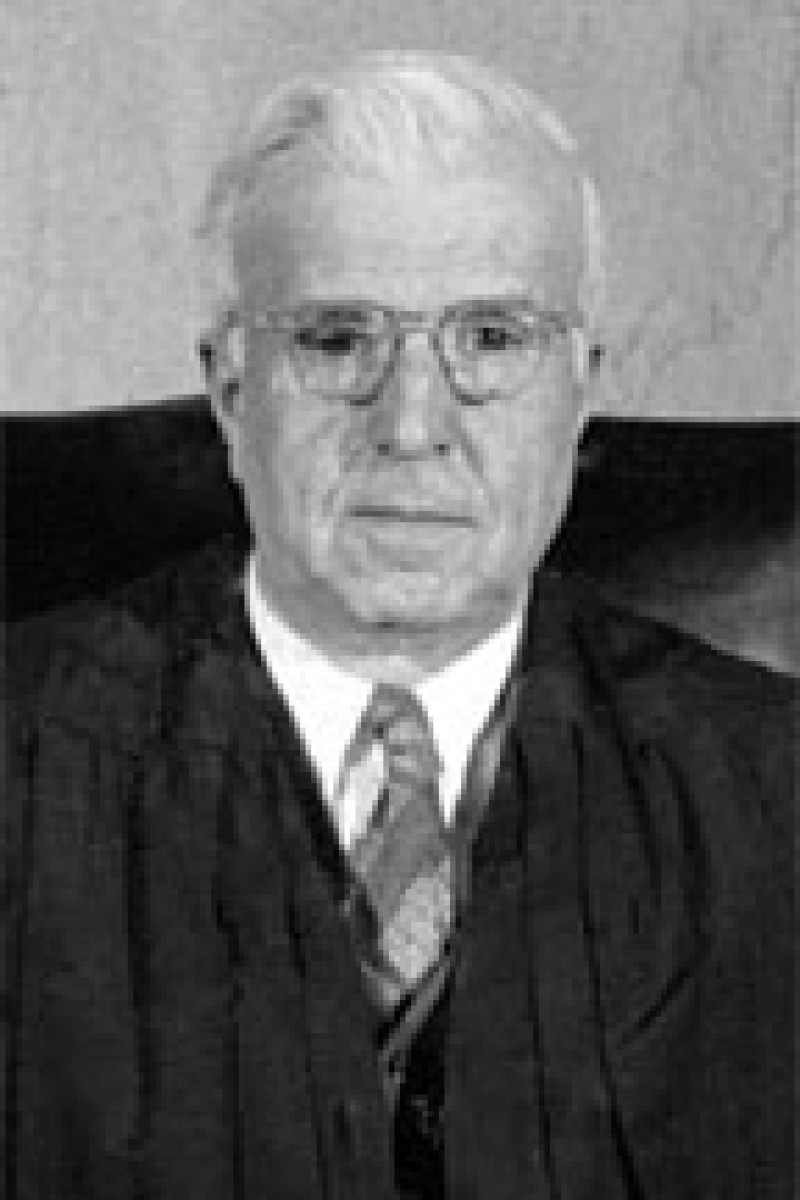 b. June 14, 1888
d. Sept. 4, 1964
94th Justice of the Supreme Court of Ohio
TERM
Jan 1, 1933
to Dec 31, 1962
---
PDF Files may be viewed, printed, and searched using the Free
Acrobat® Reader
. Acrobat Reader is a trademark of Adobe Inc.