Domestic Violence Program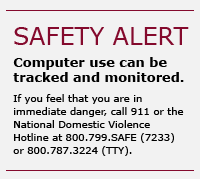 The Domestic Violence Program assists local courts and justice system partners develop and strengthen effective responses to domestic violence and related cases. Program staff monitors trends, disseminates information, and recommends rules and standards supported by promising policies and practices.
Advisory Committee on Domestic Violence
Protection Order Forms
Civil Domestic Violence Case Statistics
Special Topics
Domestic Violence Program Publications

PDF files may be viewed, printed, and searched using the free Acrobat® Reader
Acrobat Reader is a trademark of Adobe Systems Incorporated.